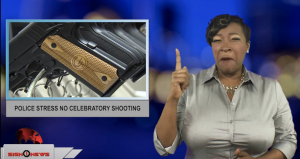 Sign1News delivers news for the deaf community powered by CNN in American Sign Language (ASL).
Transcript
While celebrating the new year is fun and exciting, the sad news is that every year someone is injured or killed by celebratory gunfire.
And every year, law enforcement officials remind people it is illegal and what goes up must come down.
According to the CDC, a bullet fired in the air can return to the ground at speeds exceeding 200 feet per second with enough force to penetrate a human skull and anyone in a 2 mile radius is at risk of injury or death.