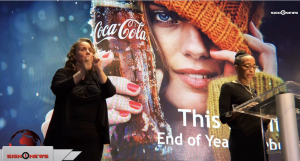 Sign1News delivers news for the deaf community powered by CNN in American Sign Language (ASL).
Transcript
Executives at Coca-Cola have decided 2019 will be the year of more inclusion and diversity for its employees and its customers.
Sign1News was invited to the company's launch party for the new initiative.
Its goal is to reach out to the talented pool of people who are deaf, hard of hearing, blind and other physical challenges, to recruit and view them no differently than anyone else.
Coca-Cola called the event the "This-Ability" year end celebration and it was highlighted by the musical talents of blind classical pianist Carlos Alberto Ibay.
(singing in Italian.)
The entire room was filled with talented people of different abilities.
They were invited because they are influencers and leaders in their respective communities, including Sign1News anchor Jethro Wooddall.
I've enjoyed mingling with so many different people, to be a part of the "This-Ability" event. Plus it's so Deaf-friendly. It's perfect.
I look forward to seeing and mingling with so many important people who are open to providing opportunities for the Deaf community and expanding knowledge and education, more opportunities, education opportunities and advancement opportunities for the Deaf community. That's why I'm here.
Chief Diversity Officer Lori Billingsly sees the event as an opportunity to position Coca-Cola as a corporate leader in the area of inclusion and awareness.
The United Spinal Association provided pamphlets teaching disability etiquette and Coca-Cola is providing the company's first relief area for service animals.
I believe we as a company are on a journey. There are great opportunities for us to close the employment gap for those with disabilities, to do the right thing on a scale that can change lives and communities, to set an example for other companies, to tap into unique talent, to ensure our products are accessible to everyone and more.
This is the first year of the disability initiative. Coca-Cola executives say with each passing year they will add more resources and tools to benefit disabled employees and consumers. But there is one area where they say they have excelled this year.
The biggest thing we've accomplished this year is actually awareness, to raise awareness in our company that people with disabilities are an asset, that the inclusion of people with disabilities is not just a nice thing to do or the moral thing to do or the right thing to do. It's actually the smart thing to do.
(singing) Someone to watch over me. (applause)