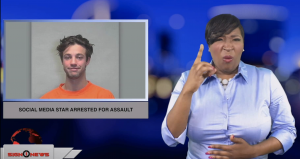 Sign1News delivers news for the deaf community powered by CNN in American Sign Language (ASL).
Transcript
24-year-old social media star Cameron Dallas is facing charges of assault after being arrested in Colorado over the weekend.
Police say on Saturday morning an ambulance responded to an Aspen hotel where a man was bleeding from facial injuries.
The man accused Dallas of assaulting him.
Dallas posted his booking photo on Twitter along with a comment indicating that the incident was a case of self-defense.
Dallas first gained notoriety with his Vine and YouTube videos and is now the star of the Netflix series "Chasing Cameron."