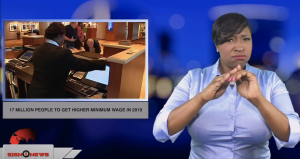 Sign1News delivers news for the deaf community powered by CNN in American Sign Language (ASL).
Transcript
According to a report by the National Employment Law Project, 22 states and Washington DC are set to raise the minimum wage in 2019.
The nonprofit group estimates that roughly 17 million employees will benefit from the increases.
In some places the pay hikes are due to routine cost-of-living adjustments.
Elsewhere it's a result of policies aimed at helping lower income workers.
For a full list of the states, go to www.nelp.org.