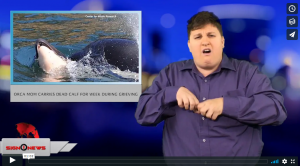 Sign1News delivers news for the deaf community powered by CNN in American Sign Language (ASL).
Transcript
The Center for Whale Research, which tracks whale population in the Pacific, captured this heartbreaking image yesterday near Victoria, Canada.
It's a picture of a grieving mother orca carrying the body of her dead, newborn calf.
The calf was born on July 24, dying within just hours.
As it began to sink, the mother orca continued pushing it up, trying to keep it afloat.
The mother orca has been swimming with it for days.
According to the Sydney Morning Herald, she was still carrying it on Monday afternoon.
Officials at the research center believe she continued carrying it as part of the grieving process.