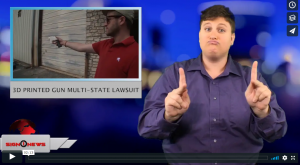 Sign1News delivers news for the deaf community powered by CNN in American Sign Language (ASL).
Transcript
According to the terms of a court settlement reached last month, blueprints for 3-D printed guns will be legally available online as of Wednesday.
However several states are trying to block the release of those designs.
Attorneys General from 20 states and Washington DC filed a lawsuit in federal court, asking for a temporary restraining order to block the settlement.
The lawsuit states in addition to helping armed terrorists and transnational criminals, the settlement and propose rules would provide another path to gun ownership for people who are prohibited by federal and state law from possessing firearms.
Pennsylvania's Attorney General says more than 1,000 people have already downloaded plans to print 3-D AR-15 semi-automatic assault rifles.
Officials with "Defense Distributed," the maker of the 3-D gun, insist sharing the plans is protected free speech.
But gun-control advocates argue the plans go much further than that.
They argue the gun is plastic, it will be untraceable and, in some cases, will be able to avoid metal detectors.
Even President Trump is skeptical over the ability to legally download plans for 3-D printed guns.
Trump tweeted Tuesday: "I'm looking into 3-D plastic guns being sold to the public. Already spoke to NRA, doesn't seem to make much sense!"
The president did not offer further details about what he will do and the White House did not immediately return a request for additional comment.