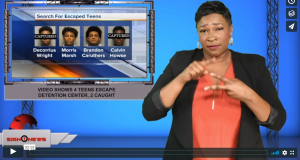 Transcript
On Saturday night four teenagers escaped a Nashville, Tennessee detention center and on Tuesday night two of them were caught and arrested.
The two suspects who were caught are 16-year-old Decorrius Wright and 15-year-old Calvin Howse.
Police are still searching for the two other suspects, 17-year-old Brandon Caruthers and 17-year-old Morris Marsh.
Caruthers is being charged as an adult in an armed robbery case and is now among Tennessee's most wanted fugitives and Marsh is accused of murder.
The teenagers escaped the Davidson County Juvenile Detention Center and it was captured on the center's surveillance video.
The video shows the teens running down empty hallways before busting out of the facility.
The four were able to escape after the person supervising them was called away to stop a fight elsewhere in the building.
Police say the company that manages the center waited more than half an hour after the escape before notifying police.
The private detention contractor that managed the facility fired three of its employees and suspended another in connection to the breakout.
The Tennessee Bureau of Investigation is offering a 25-hundred dollar reward for information that results in Caruther's arrest.