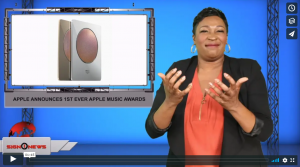 Transcript
Today (Wednesday) Apple will be celebrating its first ever Apple Music Awards.
The event will take place at 6:30 p.m. Pacific Standard Time at the Steve Jobs Theater in California and will be live streamed.
On Monday Apple announced the winners of their awards show.
Artist Billie Eilish was honored with "Global Artist of the Year" and will be celebrating her award with a special performance.
Other winners include singer and rapper Lizzo who was awarded "Breakthrough Artist of the Year."
And Lil Nas X won "Song of the Year" for "Old Town Road."
Each winner will receive this prize.
Apple says the design is inspired by the same chips that power digital music devices.