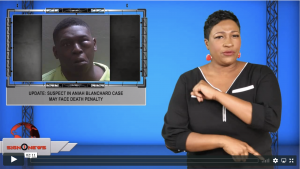 We have an update on the Aniah Blanchard case.
Last week human remains were discovered in a wooded area in Alabama which were confirmed to be Blanchard's and a district attorney is seeking to charge a suspect in the case with the death penalty.
Blanchard is the 19-year-old college student who went missing in late October in Auburn, Alabama.
Breaker was the stepdaughter of UFC heavyweight Walt Harris.
An autopsy revealed she died of a gunshot wound, and the medical examiner ruled her death a homicide.
Three suspects have been arrested in the case including Ibraheem Yazeed who police determined kidnapped Blanchard.
The other two suspects are David Johnson Jr. and Antwain Fisher who were charged in connection with Blanchard's disappearance.
District attorney Brandon Hughes said his office plans to seek the death penalty against Yazeed who is currently being held in the Lee County Jail without bond.
Hughes said Yazeed was "the only person responsible for Aniah's murder" and at a news conference on Monday he refused to discuss charges against the other two men.
Charges against Yazeed are being upgraded from first-degree kidnapping to capital murder.