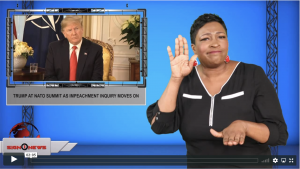 Today (Tuesday) President Trump is attending the NATO summit in London where world leaders are gathering for the organization's 70th anniversary.
NATO stands for the North Atlantic Treaty Organization and is a military alliance that was formed in 1949.
Meanwhile back in the U.S., Democratic leaders in Washington D.C. are continuing on with their impeachment inquiry.
Today (Tuesday) the House Judiciary Committee's impeachment report is set to be released.
I details the panel's findings into President Donald Trump and Ukraine after weeks of testimony and collecting documents.
On Wednesday the House Judiciary Committee's first impeachment hearing is set.
And the report will serve as the basis for the articles of impeachment that committee will consider.
Trump is accused of improperly seeking help from Ukraine to investigate political rival Joe Biden and his family.
And expert witnesses will testify on whether President Trump abused his power.
House Republicans are rallying around the president.
On Monday, they released a 123-page report defending his actions.