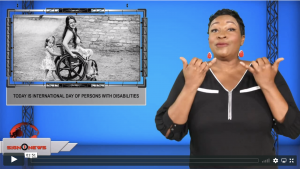 Today (Tuesday) is International Day of Disabled Persons (IDPD).
The image comes from the United Nations' Facebook page.
In 1992 to the United Nations (UN) began promoting IDPD and it has been recognized annually on December 3 ever since.
IDPD aims to increase understanding about people with disabilities and gain support for the rights and well-being of people with disabilities.
Every year the UN announces a theme for IDPD.
The theme for 2019 is "Promoting the participation of persons with disabilities and their leadership: taking action on the 2030 development agenda."
The United Nations 2030 agenda pledges to "leave no one behind" and a spokesperson for the UN says securing the rights of people with disabilities helps them to "move closer" to achieving that goal.
The UN will celebrate the day at the UN headquarters in New York.
The day will include a panel discussion on initiatives for disability inclusion, cultural events and more.