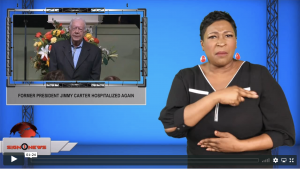 Over the weekend 95-year-old former President Jimmy Carter returned to the hospital for a urinary tract infection.
This is less than a week after he had left an Atlanta hospital following a two-week stay.
Carter was admitted to the Phoebe Sumter Medical Center and a statement from the Carter Center says "He is feeling better and looks forward to returning home soon."
The center says they will issue a statement when he is released.
Carter has admitted has been admitted to the hospital a few times recently.
In October Carter was hospitalized twice after suffering from two falls.
The first fall left Carter with a black eye and he received 14 stitches above his eyebrow.
The second fall caused a minor pelvic fracture which Carter received treatment for.
On November 11 Carter was admitted to the hospital for a procedure to relieve pressure on his brain, which was caused by bleeding from the recent falls he had.