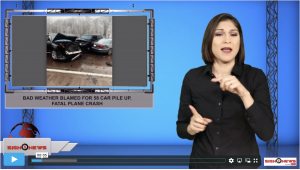 Mother Nature is to blame for a 58 car pileup in Maryland and a fatal plane crash in South Dakota.
Take a look at this.
These are just a few of the cars all smashed up because heavy fog made it tough to see the road.
Maryland State police say it all happened Sunday afternoon on I-68, right in the midst of the post-Thanksgiving day travel.
They were 29 separate crashes here, one after the other, shutting down the highway for four hours.
Ten people were sent to the hospital.
Fortunately we're told they are all going to be just fine.
Sadly in South Dakota, nine people are dead after their plane crashed.
Saturday major winter weather was barreling through the area and the plane crashed shortly after takeoff.
Two of the people on board were Jim and Kirk Hansen.
They are the founders of a company based in Idaho called Kyani which sells nutritional supplements and skincare.
A statement from the company asked for privacy and thanks those who are supporting them right now.
The FAA is still investigating this crash.