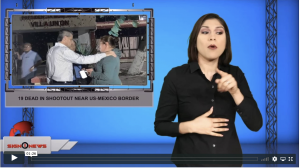 At least nineteen people were killed in Mexico near the US border Saturday night in a clash between security forces and alleged members of organized crime.
Witnesses say it was a brazen attack that happened in broad daylight.
It started when a group of armed men arrived in more than a dozen trucks and opened fire on a local government building.
The shooting lasted for over an hour and half.
When it was over, nineteen people were dead: thirteen cartel members, four police officers and two civilians.
Authorities also confiscated fourteen vehicles with powerful weapons inside.
Investigators say the attackers belong to a criminal group that has been trying for a long time to enter into Mexico.
The shootout happened a few days after President Trump said he would designate Mexican cartels as foreign terrorist organizations.
Trump also offered to go into Mexico and "clean it out" but the Mexican government rejected the offer.