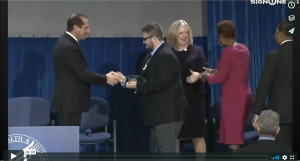 Transcript
Earlier this week I traveled to Washington DC to accept an award from the US Department of Health and Human Services.
Since 1997, HHS has recognized states, organizations and individuals for their exceptional accomplishments in helping children in foster care find permanent homes.
Sign1News was honored for its groundbreaking Deaf adoption initiative "Chosen: A Family Connection."
But the event was more than just walking on stage and accepting an award.
We got to see and hear real-life stories from the people whose lives have been changed by one simple decision to adopt a child.
And it inspired everyone in the room to roll up their sleeves to do more.