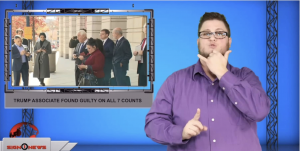 At the same time as the impeachment hearings were going on, a jury found former Trump advisor Roger Stone guilty on all seven counts.
Stone is convicted on one count of obstruction, five counts of making false statements and one count of witness tampering.
The Justice Department says he got in the way of the Congressional investigation of Russian interference in the 2016 presidential election by lying to the House Intelligence Committee about the Trump campaign's contact with WikiLeaks.
WikiLeaks released emails in July 2016 that Russians had hacked from Democratic Party servers.
The emails included ones stolen from Hillary Clinton's campaign.
During the trial, prosecutors revealed several phone calls placed between Trump and Stone on plans to release the hacked Democratic emails.
Once the verdict was read, prosecutors asked the judge to take Stone into custody immediately.
They allege Stone violated a gag order by communicating with a member of the press last night.
The judge declined and said he won't be taken into custody until sentencing at a later date.