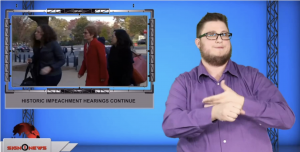 Round two of the public House impeachment hearings continued today on Capitol Hill.
The House hearings are part of the impeachment inquiry into whether President Trump leveraged military aid to Ukraine in exchange for an investigation into Vice President Joe Biden and his son Hunter.
Today former ambassador to Ukraine Maria Yovanovitch testified.
She was removed from her post earlier this year.
She believes that decision was a direct result of her record of weeding out corruption in the Ukraine and the smear campaign against her led by Trump's personal attorney Rudy Giuliani.
She also said she felt threatened when the transcript of the call between Trump and Ukraine's president was made public in which Trump called her "bad news" and that she "would be going through some things."
During the hearing, Intelligence Committee chairman Adam Schiff pointed out that Trump was live tweeting negative comments about Yovanovitch while she was testifying.
One of those tweet said: "Everywhere Maria Yovanovitch went turned bad. The Ukrainian president spoke unfavorably about her in my second call with him."
Legal experts say the tweet is a form of witness intimidation designed to destroy Yovanovitch's reputation and intimidate others from testifying.
Some Republicans express their disapproval of Trump's tweets.
White House Press Secretary Stephanie Grisham defended Trump's tweet by saying it "was not witness intimidation. It was simply the President's opinion which he is entitled to."
On cross examination, one Republican lawmaker asked Yovanovitch if she had direct knowledge or information regarding Trump accepting bribes or being involved in illegal activity.
She said no.