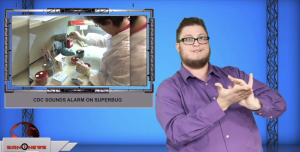 The Centers for Disease Control and Prevention (CDC) says drug resistance or superbugs is one of the greatest global health challenges of modern time.
Superbugs are germs capable of learning and evolving, making them resistant to the antibiotics designed to killed.
According to a 2019 report for the CDC, nearly 36,000 Americans die from superbug infections every year, or roughly one person every fifteen minutes.
The report warns "some miracle drugs no longer perform miracles."
The agency says there are five drug-resistant superbugs that pose an urgent threat to global health.
Genetic researchers found some germs can share their DNA with other germs, effectively teaching them how to outwit complex antibiotics.
The CDC says most deaths from drug-resistant infections are caused by germs typically found in hospitals.
But the report notes while superbug infections from hospitals are down from the 2013 study, infections caught anywhere else in the community are on the rise.
Experts point to the overprescribing of antibiotics as a factor behind growing drug resistance and say the only way to prevent the rise of antibiotic resistant infections is if doctors, patients and policymakers work together.