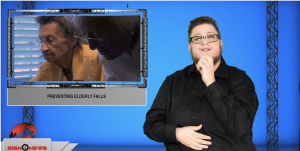 Former President Jimmy Carter is clearly a fighter.
His family pastor says he is "up and walking" after brain surgery Tuesday.
He even got permission to visit the former president on Wednesday.
The ninety-five year old went to the hospital Monday night for surgery to relieve pressure on his brain.
That pressure was caused by bleeding after some recent falls.
Carter is not alone.
According to the National Institute on Aging, up to one third of adults sixty-five and older experience a fall every year.
And as people get older, what was once a simple spill can lead to more serious problems.
Health experts offer these tips to prevent falls:
Number one: strength training.
This is especially important for the lower body as muscle loss accelerates after the age of seventy.
Number two: home safety.
According to the National Institute on Aging, six out of ten falls happen at home.
To create a fall-free environment, make sure all areas of the home are well lit.
Minimize clutter and secure or remove small area rugs that might be easy to trip over.
Finally be aware of side effects from medication.
Some can cause dizziness, confusion and drowsiness which can increase a person's risk of falling.
Reviewing medications regularly with a doctor is important.
And never stop the medication or reduce the dose without speaking to them first.