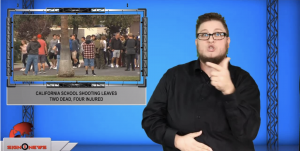 Sadly we have another school shooting to report.
In Santa Clarita, California, the Sheriff's Department received a 911 call just after 7:30am Pacific time of an active shooter situation at Saugus high school.
Within two minutes of arriving at school, they found multiple victims outside in the quad area, three female students and three male students.
As paramedics were transporting the victims to area hospitals, witnesses informed police that one of the victims was actually the shooter.
He was identified as a sixteen year old Asian male whose birthday is today.
Police were able to review the school surveillance video showing the shooter pulling a forty-five caliber semiautomatic pistol from his backpack, opening fire on the other students before shooting himself in the head.
Two of the students died.
The gunman is listed in grave condition.
A team of investigators, including the FBI, are interviewing students and searching the suspect's home to figure out what happened and why.