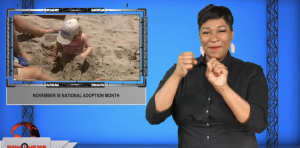 November is National Adoption month.
The month is set aside to raise awareness about the urgent need for adoptive families for children and youth in foster care.
Sign1News' groundbreaking adoption initiative "Chosen" was selected by the US Department of Health and Human Services to receive an Adoption Excellence award on Tuesday, November 12 in Washington DC.
"Chosen" spotlights Deaf and hard of hearing children in the foster care system who are ready and waiting to be adopted.
Sign1News CEO Karen Graham says "We can show where the children are and find a family ready to open their homes, hearts and hands to them."