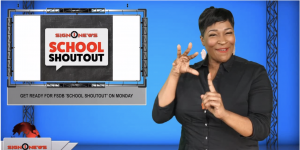 If you have the Sign1News app, be on the lookout for an alert on your phone on Monday, November 11 at around twelve noon for the latest "School Shoutout!"
The "School Shoutout" is our exclusive app platform that allows Deaf schools all over the country to submit videos and interviews to brag about the awesome things going on at their school.
On Monday my alma mater Florida School for the Deaf and the Blind (FSDB) is up.
And boy oh boy! Wait until you see the shoutout they have put together.
I must say my fellow Dragons really pulled out all the stops to showcase all of the amazing things they are doing on campus.
The best part is administrators let the students lead the way in sharing their story.
I am honored to be introducing FSDB's School Shoutout on Monday.
So get the app if you don't have it already and prepare to be dazzled!
If you don't have the app, check out FSDB's Facebook page.
They have posted a QR code it.
All you have to do is scan it on your phone and it will take you right to the Sign1News app download page.