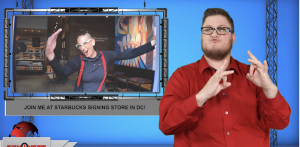 And one more thing before I go.
Remember me and Sign1News MMJ Martha Anger will be in Washington, DC on Monday November 11 for two reasons: to pick up an award for "Chosen," our Sign1News Deaf adoption initiative and to stop by the Starbucks signing store.
Martha was invited to the store a year ago and got a sneak peek before the doors open to the public.
I've never been there and I'm itching to cross it off my bucket list.
We'll be there around 3 PM and we would love to meet any Sign1News fans who may be in the area and chat over a cup of joe.
So please stop by. Hope to see you there.
And those are your top stories for today.