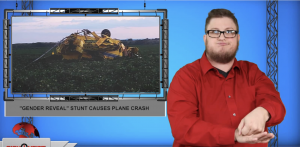 According to an investigation by the National Transportation Safety Board, a small plane crash in Texas on September 7 was caused by a gender reveal stunt.
The pilot told the NTSB he was flying his plane at a low altitude to dump 350 gallons of pink water for a friend's gender reveal.
But the pilot says after the water was dumped, the plane got too slow and immediately stalled.
According to the accident report, the pilot was not hurt but his one passenger sustained minor injuries.
Does this story sound familiar?
It's just the latest incident in a string of gender reveal stunts gone horribly wrong.
In late October, a family in Iowa inadvertently created a pipe bomb and killed a family member when it was detonated in a gender reveal party.
And last year, an Arizona man was ordered to pay more than $8 million in restitution after an exploding target that was part of a gender reveal stunt sparked a wild fire that burned nearly 47,000 acres.