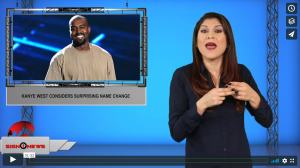 Transcript
Artist and designer Kanye West suggested that he may legally change his name to "Christian Genius Billionaire Kanye West" for a year.
West made the announcement at a surprise appearance at the 2019 Fast Company Innovation Festival.
Was told Fast Company senior writer Mark Wilson, "When people say it's crass to call yourself a billionaire, I might legally change my name to Christian Genius Billionaire Kanye West for a year until you understand exactly what it is."
Wilson joked that Kanye's new name would be hard to type.
West responded, "It will be on the license plate."
West recently released a gospel-inspired album title "Jesus is King."
carrot cake.
There are no plans for pumpkin spice yet.