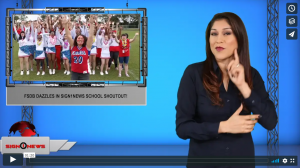 Transcript
If you have the Sign1News app, be on the lookout for an alert on your phone Monday November 11th by noon for the latest school Shoutout.
The is our exclusive app platform that allows deaf schools all over the country submit videos and interviews to brag about the awesome things going on at their school.
On Monday Florida School for the Deaf and Blind (FSDB) is up.
Wait until you see what Shoutout they have put together.
Of course, we got a sneak peek at their video and it is phenomenal!
FSDB is doing amazing things on their campus.
And the best part is the administrators let the students lead the way in sharing their story.
We are also proud to say our own Sign1News anchor Candace Jones is a graduate of FSDB and she will be introducing the video on Monday.
So get the app if you don't have it already and prepare to be dazzled by FSDB.