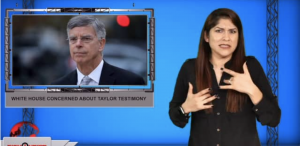 The public phase of the impeachment inquiry of President Trump will get underway next Wednesday.
As we mentioned in yesterday's newscast, Congressional Democrats laid out the names of the first witnesses.
House Intelligence Chairman Adam Schiff announced Bill Taylor, top US diplomat to Ukraine, will be first up on Wednesday.
Sources tell CNN White House officials appear the most concerned about Taylor's testimony.
Taylor told lawmakers there was an explicit quid pro quo during the call between President Trump and Ukraine's president.
As we said before quid pro quo simply means you do something for me and I'll do something for you.
The transcript from Taylor's testimony to White House investigators is now public.
Lawmakers asked him specifics about his understanding of that phone call.
Taylor said it was his "clear understanding" that American financial assistance to Kiev would not come unless the country's president said publicly he would investigate Joe and Hunter Biden.
Trump has tried to discredit Taylor in the past but some say it will be difficult to discredit Taylor because he is a West Point graduate and Vietnam veteran who is still serving his country.