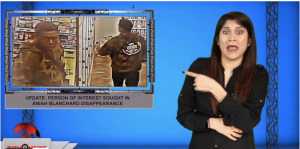 Two weeks have passed since Aniah Blanchard was last seen.
She is the 19-year-old Alabama college student who authorities believe may be a victim of foul play.
She is also the stepdaughter of UFC heavyweight Walt Harris.
Police found Blanchard's slightly damaged car in Montgomery, Alabama about an hour away from where she was last seen two days earlier.
They say forensic evidence discovered in the vehicle indicates Blanchard was harmed.
Now police may have come across a lead in the investigation.
The Auburn police division is trying to identify this man seen in this video surveillance.
Authorities say he was in the same convenience store that Blanchard was in on the day she was last seen.
He's described as a black man, early to mid 20s, approximately 200 pounds, between 5'8″ and 5'10".
He is wearing dark pants and shoes and a camouflage hooded jacket with "Vans" written across the back.
Police are asking anyone with information on Blanchard or the man in the photo to contact authorities at 334-501-3140, the anonymous tip line at 334-246-1391 or the twenty-four hour nonemergency number at 334-501-3100.
There is a $35,000 reward for information that leads to an arrest and conviction.