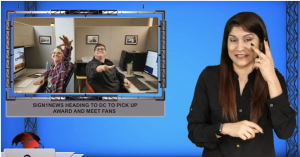 If you are in Washington, DC next Monday, November 11, we would love to meet you.
Sign1News anchor Jethro Wooddall and MMJ Martha Anger will be in DC to pick up an award for the Sign1News adoption initiative "Chosen: A Family Connection."
Sign1News launched the groundbreaking adoption initiative earlier this year to help Deaf and hard of hearing children in foster care find permanent homes.
"Chosen" was selected by the US Department of Health and Human Services to receive its 2019 Adoption Excellence Award in the category of Media/Social Media/Public Awareness.
While they're in DC, Jethro and Martha will be stopping by the Starbucks signing store on H Street around 3 PM.
Jethro has been itching to cross the signing store experience of his bucket list.
And he would love to sit and chat with Sign1News fans while he's there.
We would love to hear your thoughts, get your feedback and pop off a few selfies too.
Hope to see you there!