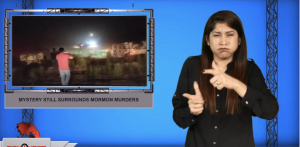 Officials are working to piece together exactly what happened on Monday when three mothers and six of their children were killed in a vicious ambush attack at the US-Mexico border.
The victims are dual US-Mexican citizens from the Mormon community in Mexico.
Authorities say criminal groups, possibly drug cartels, ambushed a three-car convoy traveling through a remote area of the mountains between Sonora and Chihuahua, Mexico.
Survivors from the attack say bullets rained down from the surrounding hills.
One of the cars caught fire.
Over 200 bullets were found at the scene.
Several children managed to escape, hiding in the bushes for hours.
Authorities say they know what happened.
They just don't know why the convoy was ambushed.
The Mexican government says the Mormons may have been caught in a fight over cartel turf.
But survivors of the massacre say they believe they were targeted.
Mexico's president has formed a commission to investigate the murders and President Trump is offered to assist in the investigation.