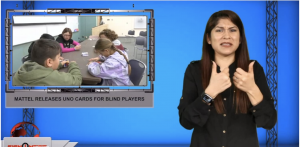 Middle school students in Idaho got their hands on a new version of Uno printed in braille.
Mattel recently released a version of its iconic card game designed for blind players.
Each card features braille printing to indicate the colors and numbers for players.
Kids at the Idaho School for the Deaf and the Blind were excited to give it a whirl.
Teachers say games like Uno are important for social interaction and development.
But for the kids, it's not just a game.
It's about enjoying an everyday part of middle school life.
One teacher said "Going through a childhood or adulthood without playing Uno? It's just not possible. You have to play Uno in your life!"