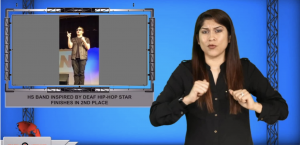 We have an update on a story we brought you last week.
Last Saturday in Detroit, the Ferndale high school marching band performed "Watch These Hands" during the competing band association state championship.
That song was made famous by Deaf hip-hop artist Sean Forbes.
Forbes worked with the band and taught them how to sign the song as part of their performance.
We spoke with the school's band director and found out fans and other bands love the performance!
But there may have been a few judges who didn't quite understand it.
Ferndale finished second in the competition.
But they did send us a clip of the performance.
We want to warn you: this is the video shot from up high, so you won't see the signing up close.
However the band director says he hopes to get a low angle version soon.
And when he does, we will share that with you as well.
In the meantime, take a look.
The words of the song are flashing on two monitors on the field and keep an eye on the part were bandmembers up front drop their instruments and start signing.