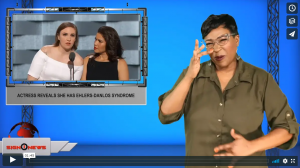 Transcript
Recently a paparazzi photo captured actress Lena Dunham in public wearing a nightgown and walking with a cane.
Dunham is the creator and star of HBO series "Girls."
She says the photo prompted her to reveal on social media that she is dealing with Ehlers-Danlos syndrome.
Ehlers-Danlos syndrome is a series of disorders that affects connective tissues that support the skin, bones, blood vessels and other organs.
Many people with the condition have soft, fragile skin and bruise and scar easily.
She said in the paparazzi photo, she was walking with a cane to go to the doctor and was wearing a nightgown because she "wanted to be full cozy."
This is not the first time Dunham has shared intimate details about her health.
She has also posted details about her weight gain, hysterectomy, mental health issues and endometriosis.