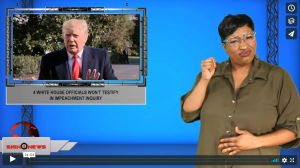 Transcript
There were four no-shows at the House's impeachment inquiry today (Monday).
National Security Council lawyers John Eisenberg and Michael Ellis did not testify.
Neither did assistant to the President Robert Blair nor Brian McCormack with the Office of Management and Budget.
According to an administration official, executive privilege is preventing Eisenberg from showing up.
The others are skipping the inquiry because they can't have a White House lawyer with them.
Despite the numerous people who have refused to testify, House investigators say they're getting ready to start the next phase of the impeachment inquiry.
Democrats say they are ready to build a public case against President Trump to ensure no-shows by White House administration won't slow down their momentum.
That would involve the impeachment inquiry shifting from a closed-door investigation into an attempt to convince Americans Trump should be removed from office in dramatic televised hearings.