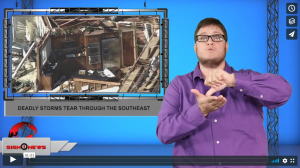 Transcript
On Sunday, as many as eight tornadoes were reported in three states including Arkansas, Oklahoma and Texas.
The deadly storms left behind a trail of destruction claiming at least two lives, one in Arkansas and another in Oklahoma.
A powerful EF-3 tornado, packing destructive 140-mile-per-hour winds, devastated northern Dallas.
The mayor of Dallas said the city suffered significant property damage.
The storm turned homes and businesses into piles of rubble and knocked out power for more than 100,000 people.
As of early Monday morning, there were no reported injuries or deaths in Dallas according to the city's website.