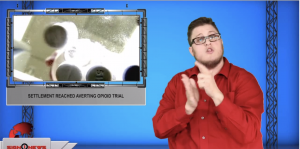 A landmark trial was supposed to begin today Monday in Ohio involving four drug companies.
Last week they failed to reach a settlement in the lawsuit over their role in the national opioid crisis.
Several drug companies have been accused in thousands of lawsuits.
The federal trial combined nearly 2,000 cases involving states, cities, counties, communities and tribal lands.
But early this morning the four drug companies reached a last-minute settlement.
AmeriSourceBergen, Cardinal Health and McKesson will pay a collective $215 million immediately, while TEVA Pharmaceutical owes $20 million, with $5 million of that to be paid before the end of the year.
The fifth defendant, pharmacy chain Walgreens, was not included in the settlement and will get a new trial date.