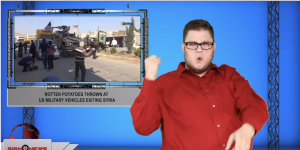 The largest withdrawal of US troops from Syria is now underway and clearly that has left many Syrian-Kurdish angry.
And on Monday, they showed their anger.
As the US military vehicles exited the Mideast nation crossing into Iraq, men and women threw rotten potatoes at them.
At one point, a woman is seen standing in front of an armored truck.
A man can be heard yelling insults at the US troops inside the vehicles.
President Trump's decision to withdraw troops from Syria has been strongly criticized by both Democrats and Republicans.
The US brokered cease-fire between Turkey and Syria is set to expire Tuesday.
But despite agreeing to a cease-fire, the Syrian defense force press office has said attacks from the Turkish military and militants have resulted in sixteen death and three wounded in a twenty-four hour period.
Defense Secretary Mark Esper said most of the troops are being deployed to two missions: to help defend Iraq and to perform a counter ISIS mission.