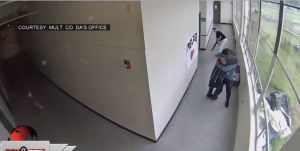 Newly released surveillance video shows what happened when a brave coach disarmed a student who came to school with a loaded shotgun then hugged him.
Back in May, Angel Granados Diaz walked onto his Northeast Portland, Oregon high school campus.
He brought a shotgun loaded with a single shell.
Authorities say he intended to kill himself.
However as Diaz entered a classroom, he encountered campus coach and security guard Keanon Lowe.
The quick thinking Lowe grab the gun with one hand and reaches Diaz with the other, pulling him in for a consoling hug and a conversation.
That allowed police time to respond and to take control.
As we said the entire incident was captured on surveillance video.
Earlier this month, Diaz pleaded guilty to unlawful possession of a firearm and was sentenced to three years probation.
As part of the deal, he will get mental health and substance abuse treatment.
In a statement, the deputy district attorney confirmed Diaz never intended to hurt anyone other than himself.
The DAs office also determined the weapon did not fire when Diaz pulled the trigger, giving coach Lowe time to act.