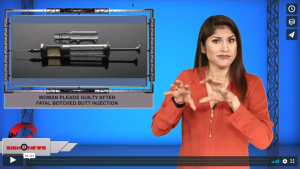 Transcript
Thirty-four-year-old Donna Francis pleaded guilty to negligent homicide after performing a butt enhancement procedure that killed a thirty-four-year-old Maryland woman.
In May 2015, the woman and her mother traveled to Francis's Queens, New York home and paid her $1,600 for the procedure.
Francis is not a licensed nurse or physician.
Authorities say Francis used a massage table in her basement as an exam table and used a silicone gel she bought on eBay.
As Francis was injecting the woman with the fluid, she went into cardiac arrest and later died at the hospital.
Francis fled to London the next day but was eventually brought back to the US in August after her attempts to block extradition failed.
She will be sentenced on November 14 and could face up to a year in jail.