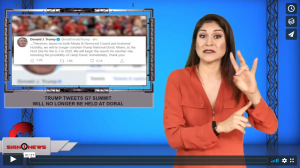 Transcript
Next year's G7 summit will not be held at President Trump's Florida resort after all.
In a complete reversal Saturday night, the President tweeted "We will no longer consider Trump National in Doral Miami as the host site for the G7."
He goes on to say the search for another site is underway, including consideration of Camp David.
In his tweet the President blames the media and what he calls the "Democrat craze and irrational hostility" for his decision.
In a pair of tweets less than an hour earlier, Trump praised the benefits of his Doral property and said he would do it at no profit.
But he accused the media and Democrats of being unfair to the selection of his resort.
There had been mounting criticism in recent days over the choice of Doral to host the G7.
The Democratic-led House had been set to vote next week on a resolution to condemn use of the resort for the summit.