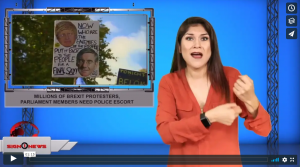 Transcript
Millions of British protesters marched in the streets in central London, demanding a second referendum on leaving the European Union, better known as "Brexit."
Observers say it was generally a happy crowd with lots of kids, dogs and silly signs.
But the message was serious.
Protesters want a final decision on Brexit.
Large screens outside Parliament allowed the crowd to hear what was going on inside.
When the amendment passed that would potentially delay Brexit, a huge cheer went up.
However when members of Parliament started to leave the House of Commons, some were heckled and yelled at so intensely, they had to be escorted away from the crowd by police.
Some protesters could be heard yelling "Shame on you!"