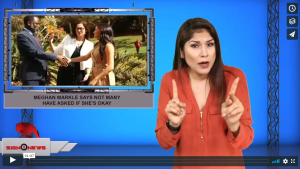 Transcript
Duchess of Sussex Meghan Markle opened up about what it's like to be a new mother and the target of a harsh media spotlight.
Her comments came up in a clip from the soon to be released special about her trip through Africa with her husband Prince Harry the Duke of Sussex.
The British network ITV released a segment in which the Duchess talks about the vulnerability of pregnancy and how it made attacks from the press hard to cope with.
In the clip the Duchess thanks the interviewer for inquiring about her saying "Not many people have asked if I'm okay".
The documentary "Harry and Meghan: An African Journey" will premier the UK on Sunday.