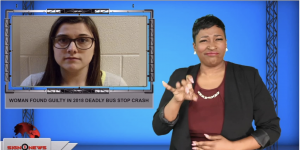 Twenty-five-year-old Indiana woman Alyssa Shepherd has been found guilty of three counts of felony reckless homicide in a fatal bus stop crash that killed three siblings last year.
In October 2018, six-year-old twin boys Xzavier and Mason Ingle and their nine-year-old sister Alivia Stahl were killed when they were struck by Shepherd's Toyota Tacoma.
They were crossing the road to get to their school bus which had the stop arm extended and emergency lights activated.
Another student was struck but wasn't killed.
Prior to jury deliberation Friday, the prosecution rested and the defense called six witnesses to the stand including Shepherd.
She told jurors she was "a mess" on October 30 and was screaming and crying and having an out of body experience.
Shepherd's sentencing hearing is scheduled for December 18.
She faces up to 21 1/2 years in prison.