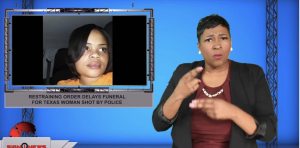 The funeral for Atatiana Jefferson was supposed to take place Saturday but a temporary restraining order halted the burial.
Jefferson is the twenty-eight-year-old Fort Worth, Texas woman who was shot through the window of her home by police officer Aaron Dean after he was called her home for a wellness check.
The funeral had already been set for Saturday and dozens of family and friends had already arrived for the service.
But Jefferson's father Marquis Jefferson filed a restraining order to stop the proceedings so he could be more included in the funeral arrangements.
On his daughter's death certificate, Jefferson is listed as the person who has full authority to make arrangements for her funeral and burial.
He is planning for his daughter's funeral to be held on Thursday.
A hearing is set for Monday to determine if the restraining order will continue.
Whenever the funeral happens, the Jefferson family won't have to worry about paying for it.
NBA star Harrison Barnes and his wife Brittany are paying most of the funeral costs.
NFL star Malik Jackson has committed to paying for the rest.