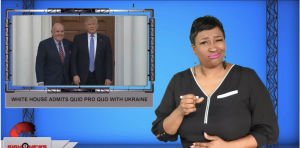 The White House made a stunning admission Thursday.
White House acting chief of staff Mick Mulvaney admitted to a quid pro quo.
That's just a fancy way of saying "If you do something for me, I'll do something for you."
In this instance, Mulvaney confirmed that President Trump froze nearly $400 million in US security aid to Ukraine in part to pressure that country into investigating Democrats.
And he flat out told reporters "We do that all the time with foreign-policy. Get over it."
Mulvaney also made no excuses for revelations that it was the President's personal lawyer Rudy Giuliani who was the gatekeeper of Ukraine policy.
The US ambassador to the European Union Gordon Sondland testified on Capitol Hill Thursday and confirmed that.
Sondland said that he and his fellow diplomatic envoys to Ukraine didn't have a choice between pursuing a traditional policy to strengthening ties with the US or working with Giuliani.
He said he "didn't understand until much later that Giuliani's agenda might have also included an effort to prompt the Ukrainians to investigate Vice President Biden or his son."
Sondland is a long time Republican donor who gave money to Trump's inauguration.
He became a target for the impeachment inquiry when his text messages with the top US diplomat in Ukraine Bill Taylor came to light.
Taylor wrote to Solomon that he thought "it was crazy to withhold security assistance to Ukraine for help with a political campaign."
Sondland responded "The President has been crystal clear, no quid pro quos of any kind."
But Sondland was repeating to Taylor what the president had just told him on the phone, no quid pro quo.
On Thursday Sondland claimed "withholding foreign aid in order to pressure a foreign government to take such steps would be wrong. I did not and would not ever participate in such undertakings."