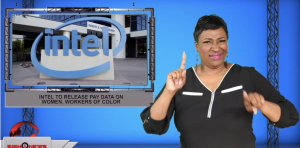 Tech giant Intel is planning to release data on how much it pays women and employees of color by the end of the year.
Intel confirmed the plans to CNN Thursday.
The move comes in response to a new requirement by the US Equal Employment Opportunity Commission.
Companies with more than 100 employees must now provide pay data.
That's on top of the previously mandated information about worker demographics.
The majority of Intel's employees are white or Asian men.
The new rule comes amid growing calls for transparency regarding gender and ethnicity pay gaps.
Those disparities have been particularly prevalent in the tech industry.
The new EEOC rule will result in the most detailed information companies have ever been required to give federal regulators about how they pay workers.
It could help the agency more effectively target potential discrimination cases.