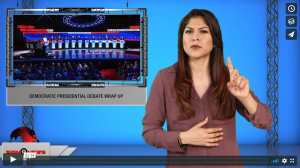 Transcript
On Tuesday, 12 Democrats took the stage in Ohio for the fourth Democratic presidential debate.
And Sign1News interpreted the debate live.
Here are a few highlights of the debate:
Candidates touched on a variety of issues ranging from health care to impeachment.
Senator Elizabeth Warren was pressed by moderates on stage on how'd she pay for Bernie Sanders "Medicare for All" plan and what it would mean for private insurance.
Biden defended his son's Hunter's work in Ukraine and stated him and his son "did nothing wrong."
Senator Bernie Sanders returned to the campaign after a heart attack, ready to move on from questions about his health.
Sanders is also going to pick up an endorsement from New York representative Alexandria a Ocasio-Cortez and other members of "The Squad."
Mayor Pete Buttgieg and former congressman Beto O'Rourke clashed on gun control.
If you missed the debates, you can go to our website, our social media platforms or our app for ASL interpretation.