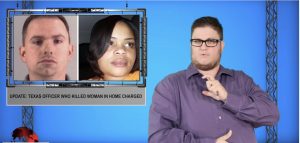 A former Fort Worth, Texas officer posted bail and is out of jail.
Aaron Dean was arrested and charged with murder after shooting 28-year-old Atatiana Jefferson in her own home on Saturday.
On that Saturday, police were called to Jefferson's house for a welfare check.
A concerned neighbor called the non-emergency line when they saw the door to Jefferson's home open.
When officers arrived, witnesses say they saw them searching the outside of Jefferson's home.
On the body cam, you can hear officers yelling "Put your hands up from your hands! Show me your hands!"
Then there was a gunshot.
On Monday the former officer resigned from his job.
Fort Worth's mayor apologized for the shooting and said the killing of Jefferson was "unacceptable" and "unjustified."