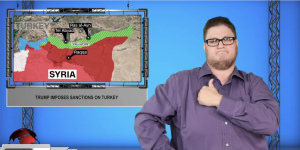 President Trump issued new sanctions against Turkey as the country continues its military offensive deeper into northern Syria.
According to Vice President Mike Pence, Trump talked to Turkey's president to express his displeasure at the military operation.
Pence will soon go to Turkey to hash out some kind of ceasefire between Turkey, Syria and the Kurdish forces have aligned with the Syrian regime.
Trump continues to get criticism from Democratic and GOP lawmakers for his decision to pull U.S. troops out of northern Syria and sparking the current crisis there.
Some U.S. military personnel and defense officials are slamming Trump, too, saying the decision to abandon the Kurds, who helped the U.S. battle ISIS, is a "betrayal."