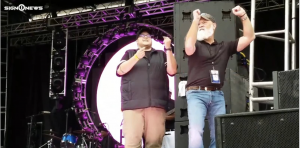 Last night the Atlanta Pride celebration wrapped up three days of festivities.
This was the forty-ninth year the city of Atlanta has hosted the event which celebrates the LGBTQ community and is designed to raise awareness, promote unity, visibility and a positive image.
Ten years ago, the Pride committee added Deaf interpreters on stage to make sure Deaf attendees had access to all of the festivities.
Sign1News anchor Jethro Wooddall was one of the interpreters last night.
But it wasn't all work.
There was lots of Sign1News dancing too.
Check it out.